MyNutrition
Protein Blend Fat Burning Matrix - 10 packs Whey Protein Powder at Best Price
About The BonAyu Whey Protein Blend (400 gm - 10 packets)
The BonAyu Whey Protein powder is an innovative GMP accredited fat burning protein blend in India. It provides energy for your workouts and helps you lose weight through its active blend. You can develop the body of your dreams with the right supplements, BonAyu Whey Protein being the best one.
The high-quality whey protein powder blend contains Alpha Lipoic Acid which is regarded as a powerful antioxidant to reduce inflammation. This means that you may not feel as sore as you do after your workouts if you were to not take whey protein powder. The blend is designed to support any workout of any type and any intensity, which is why it is a key supplement for active individuals anywhere.
You are also less likely to experience an insulin spike with BonAyu Whey Protein, with the introduction of flaxseeds and biotin. You gain the added nutritional and recovery benefits of these key ingredients in the blend, giving you the best workout experience when you exercise.
You can get the best whey protein powder price when you opt to buy whey protein from MyDiagnostics. We have an extensive coverage of supplement delivery around the country, empowering anyone looking to build a stronger and leaner body. You can refer to the serving size and start empowering your workouts with the right whey protein powder in India.
GMP accredited, 100% vegan, lab-tested, and does not contain soy or sugar.
400(gms) - 10 packets |  Serving size: 1 Packet
Research & Development by BonAyu Lifesciences
With a combined experience of 100+ years, the BonAyu Lifesciences team focuses on developing innovative products and delivery methods. By reimagining supplement delivery, customers can get a better product at a better price for long-term benefits. With their globally patented manufacturing technology, consumers can benefit from mouth dissolving strips, topical films, oral films, and vitamin gummies.
No longer do you need to rely on outdated methods of consuming supplements. With BonAyu's award winning manufacturing and research programs, you can get an improved whey powder blend with greater bioavailability. This means that you can get more from a single packet of whey powder than before.
Information on Active ingredients 
You can benefit from the following active ingredients in the innovative blend.
Whey protein isolate/Whey protein concentrate blend(2:1)
L-Carnitine (1gm)
Flaxseed Powder (500mg)
Alpha Lipoic acid (200mg)
Biotin (5mg)
You can refer to the official website for more information on the blend and technology used. 
How to consume BonAyu Whey Protein Blend
You can directly mix the sachet of whey protein powder with water, to get your dose of whey protein for muscle building, energy, and recovery. You can also add the whey protein blend to milk, yogurt, or other mixes if you prefer to consume it with your meals.
Depending on your macros and your diet chart, you can add proteins to your meal quickly with the whey blend. This is a great way to include proteins in a meal if you don't want to consume other sources of protein directly. The powder blend is also an easy to consume option to supercharge a snack as well.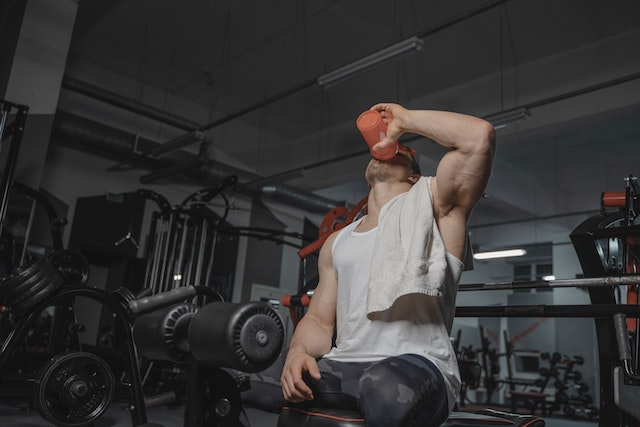 Major Benefits of BonAyu Whey Protein
There are several health benefits of opting for BonAyu Whey Protein.
Building lean muscle tissue
With L-Carnitine, your protein blend can improve your metabolism and help turn fat into energy through regular diet and exercise. You can improve the output of your lean muscle building program with the BonAyu whey powder.
Improving muscle performance
Along with optimum nutrition, you need to ensure that your body is receiving enough protein. BonAyu whey protein provides the necessary protein blend to help your body boost performance.
Enhancing recovery and repair
The included Alpha Lipoic acid also acts as a powerful antioxidant that can lower inflammation. This means that your body has enough time to recover and repair muscle microtears for optimal development.
Supporting healthy blood sugar levels
BonAyu whey powder doesn't spike your insulin levels, which means that you won't feel sluggish after consuming the shake or watered drink. You can add it to your existing meal plan and ensure that you don't exceed your daily calorie limits as well.
Improving daily protein intake
With the BonAyu whey protein blend, you can improve your protein intake without going over your other macros. With high quality whey protein, you can reduce your sugar intake, and ensure that you don't exceed your carb or fat intake for the day. This helps you maintain your nutritional goals, while building high-quality muscle.
Who is the product recommended for 
Women and men above the age of 18 years can consume BonAyu Whey Protein powder as a part of their nutritional plan. You can fuel your workout effectively with BonAyu Whey Protein.
Quality Parameters and Information
Why is BonAyu Whey Protein the best option for you?
- There is no added sugar, allowing you to remain within your macros
- There are no added preservatives, ensuring a clean and healthy whey blend.
- Doesn't induce bloating and gastrointestinal problems
- Comprehensively lab tested and accredited by GMP India
- Globally sourced premium raw materials for optimal blend.
- Completely vegan, no soy, and free of sugar
What is unique about BonAyu whey protein?
BonAyu understands what your body needs from a strength, endurance, and recovery standpoint. The BonAyu whey protein powder is sugar-free, soy-free, and free of preservatives, making it one of the more natural whey solutions in the market. You're also getting the benefits of flaxseeds, biotin, and other added ingredients to supercharge your whey powder for a daily supplement.
The whey protein is easy to digest, and can be mixed in water, milk, yogurt, and other meals as a shake or a snack. The quality of the product and the innovative delivery of the powder make it highly unique and cost-effective for anyone looking for the best whey protein in India.
Does the product have any side effects?
No, it does not have any known side effects and has been tested keeping the highest quality checks in place.
What is whey protein?
Essentially, milk consists of two types of proteins namely casein and whey. Whey accounts for around 20% of the content of milk, and is a high quality source of protein for building muscle. It is also regarded as a fat burning protein because of the improved recovery individuals receive after workouts.
Whey can be found in the watered portion of milk, when cheese is developed and separated. The by-product or left-out part of that process is then further developed to create whey protein. This can be converted into a fat burning protein powder form for muscle development.
Can women consume whey protein powder?
Yes, whey protein powder is safe to consume for women. You can consume whey protein before or after your workout depending on what you're comfortable with. Whey protein is designed to enhance your workout effectiveness and help you build strength and high quality muscle. It can also aid in recovery by fuelling your body with the right protein.

Can whey protein help in muscle building?
Yes, whey protein is designed to help in muscle development by making amino acids available for the muscle to absorb quickly. This makes it easier for the muscles to recover and build strength overall. Whether you are aiming to improve recovery or boost your protein intake, you can take whey powder to improve your exercise output.
It can add to the existing diet and supplementation strategy of workout enthusiasts and gym goers. A high quality whey blend supports muscle development, building of lean tissue, and reduction of inflammation. It boosts muscle performance, giving you a good workout every time. You can consult with any trainer or fitness expert and learn about the importance of whey protein in your diet and nutrition plan.



How do I determine which protein powder works well for me?
There are many offerings in the market giving you whey protein in different flavours, such as ice cream, double rich chocolate, peanut butter, etc. You can also get a gold standard 100 whey protein product with the right ingredients and blend as well.
A whey protein supplement is the key to muscle recovery, which is why it is important to get the right one from the right manufacturer. You should focus on whether the manufacturing technology is patented and unique in India. Whey protein supplements should also be developed with high quality standards in bioavailability and quality control.
How do I improve my performance in the gym?
You can boost performance at the gym by tracking your progress, having adequate protein, and ensuring your body has enough fuel. You should also focus on getting adequate sleep, so that your body can recover and provide energy for your next workout.

What supplements are required for better recovery?
Some of the best supplements that are key for better recovery are whey protein, BCAAs, essential fatty acids, and creatine. You should also supplement for any deficiencies you may have, such as a vitamin D3 or B12, and keep a close eye on your mineral levels as well. These strategies can help you recover better after workouts.

How do I get the best whey protein powder price?
The best strategy to get the best whey protein powder price in India is to procure your supplements from MyDiagnostics. You can get high protein whey powder quality at cost-effective prices, giving you a complete option for your whey powder needs.
You can get a chocolate whey protein powder blend for INR 1100 home delivered. The whey protein powder price is also optimized for multiple sachets that you can consume at any time before or after your workout.
How do I contact MyDiagnostics in India?
You can easily reach out to us at +9108047166161 for your fat burning protein powder requirements. You can also call us for any questions you may have about the whey protein concentrate powder.