Thyrocare packages at MyDiagnostics
MyDiagnostics offers several Thyrocare packages that are designed to capture critical health parameters and markers for complete care. Our tests are focused on specific health markers that are relevant to check for every individual. From diabetes to cardiac risk markers, all relevant tests are included to ensure optimal health tracking.
These tests are also vital to measure levels over time, especially if you are managing a disease condition or are at risk for an illness. Recovery can also be tracked when these testing packages are procured, as they provide an organized way to keep a track of all reports through digital documentation.
Testing is also performed by highly qualified professionals, in a lab that is NABL certified and is widely recognized for its high standards. Reports are quality tested for results verification, and subsequently emailed to individuals within 24-48 hours. All instructions are also listed transparently within kit documents, making it easier to perform home tests regularly with convenience.
MyDiagnostics also offers multiple types of health packages that you can choose from, making it easier for anyone to opt for the most relevant test coverages. For someone who is more concerned about toxicity levels and oestrogen, special Thyrocare packages are designed to help customize testing to their age, hormone profile, risk factors, etc.
Why Thyrocare packages for health tests?
Thyrocare packages are industry leading testing solutions for diabetes, cardiac, lipids, kidney function, and other important health parameters. They are designed to provide highly accurate results for levels on a range of markers.
You can also receive your results quicker than traditional testing routes, especially when opting for nearly a hundred testing markers. The results are also organized and shared with analysis on collective levels.
Extensive information in kit
The home collection kit for any Thyrocare package will contain extensive information on sample collection, instructions to follow, what parameters are being tested, etc. This eliminates any doubt about what tests are going to be performed on the blood sample. The reports can also be organized based on testing markers.
Trained professionals in testing
All samples are handled, tested, and confirmed through highly trained professionals. This ensures that there is minimal risk of error, and reports are generated with consistency and accuracy. Specialists are able to test for all levels, such as lipid profile, liver functioning, thyroid hormones, etc.
High laboratory testing standards
Sample acceptance and quality control protocols are executed for any sample that arrives at the centre. The processing of the lab testing is performed at NABL certified Thyrocare labs that are equipped to perform high quality testing for multiple parameters.
Fast turnaround with accurate results
One of the main advantages of opting for Thyrocare packages is the quicker turnaround. Testing is performed within the sample collection time frame, and results are delivered between 24-48 hours. Sometimes individuals can receive results even sooner, depending on their city and sample collection time.
Emailed reports for privacy
Another benefit of opting for a Thyrocare package, such as the Aarogyam C or Aarogyam X, is that reports are emailed directly to the person's inbox. This removes any risk of privacy issues, or sample report delivery delays. Emails can also be forwarded to doctors, for faster analysis and treatment initiation.
Thyrocare
Aarogyam C - Advanced health checkup package
The Thyrocare Aarogyam C health checkup package tests for 53 parameters such as Diabetes screening, Iron levels, lipid profile, liver functioning, kidney functioning, vitamin profile, and thyroid health. It is available at the cost of INR 1250 post discount and can be easily ordered using the book test feature. This test is ideal for those with pre-existing conditions and for preventative care.
Thyrocare
Aarogyam 1.3 - Health checkup package
The Thyrocare Aarogyam 1.3 package provides in-depth insights on 90 key parameters and is a comprehensive testing solution for individuals of all ages. You can check your risk factor for diabetes, thyroid, toxins, cardiac issues, and the performance of vital organs. It is available at a cost of INR 1800 post discount, and can be easily ordered using MyDiagnostics health testing platform.
Thyrocare
Aarogyam X - Added Free PSA/Oestrogen test
The Thyrocare Aarogyam X measures health levels for 133 parameters, along with urine analysis, blood health, and pancreas profile. This is a comprehensive test package for more health parameters than average testing kits. The cost of the package is INR 3999 post-discount and is ideal for middle aged to senior citizens for improving longevity and wellbeing.
Thyrocare
Aarogyam XL - Profile health test package
The Thyrocare Aarogyam XL health package tests for 140 parameters and is regarded as one of the most comprehensive Thyrocare testing packages available. It can also check your risk factor for arthritis, electrolytes, steroids & hormones, and toxic elements, along with other health markers. The cost of the package is INR 4900 post-discount and is the right package for any individual that wants a comprehensive testing performed for health reasons, post illness, post COVID, etc.
Importance of routine health checkup
Ensuring timely routine health checkups is vital to longevity and wellbeing, and ensuring that you are protected from diseases. From measuring cardiac risk markers to iron deficiency 3 parameter measurement, you should focus on optimizing all levels of health factors to holistically track your body.
Essential for tracking multiple levels
Rather than checking for single levels, such as a complete hemogram, toxic elements 22 measurements, or cardiac risk markers 5 measures, it is best to get a complete health checkup.
A complete checkup of the body will provide the right markers and insights for the determination of overall health. You can also track multiple levels to provide better information for doctors for any form of medical treatment.
Critical if you have family history
A routine health checkup is important when you have a family history of diabetes, cancer, kidney issues, hair thinning and other diseases. Routine checkups also provide updated insights on current levels, which is important to track for risk factors such as secondary illnesses, age, lifestyle, stress, etc.
Important to track if deficient
Nutritional deficiencies can be treated with the right supplementation and dietary modifications. However, it is important to start tracking your key deficiencies early, so that you are better prepared over time. While many people have a vitamin D deficiency, it is vital to get your D3 levels tested before you start to experience symptoms.
Key for providing insight on symptoms
If you are experiencing dullness, sudden weight loss, nausea, bloating, or joint pain, then a complete health checkup package is the right approach. It can help provide insights on the root cause of your symptoms. Tests such as C reactive protein HS, lipid profile, iron deficiency profile, etc. can help doctors diagnose any inflammation, kidney issues, injuries, etc.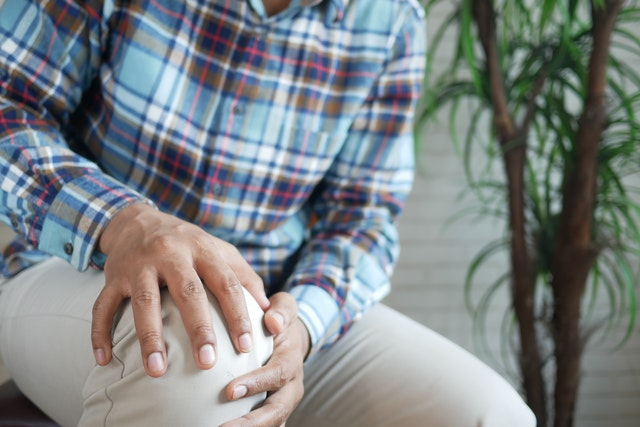 Img src - https://www.pexels.com/photo/a-person-in-plaid-long-sleeves-holding-his-knee-8763984/
Vital after age milestones
A routine health checkup is vital after reaching certain milestones, such as when you reach 25, 30, 45, 50, 60, 65 etc. These life milestones can be celebrated and used as a reference point to remember to get complete health checkups.
Doctors also recommend a complete reactive protein HS CRP and Aarogyam C thyroid test when you are over 60-65 years old. These tests can help determine inflammation, heart disease risk, hormonal issues, etc. and can be vital to avoiding chronic illnesses.
Post-COVID or chronic illness
If you have gone through a chronic illness or have contracted COVID in the past, then a full body checkup is important. A Thyrocare Aarogyam C test can measure most of your vitals, and ensure that your thyroid is performing optimally after the illness has subsided.
Health checkup packages can provide the right types of insights to specialists that can prescribe the right treatment. You can also get a home sample based test with free home delivery to get your results directly emailed to you privately.
Doctor recommended tests
Apart from general tests, your doctor may ask you to undergo special testing protocols, such as apolipoprotein a1 apo, apolipoprotein b apo, liver 11 parameters, and hemogram 24 parameters. You may need to get these levels tested regularly, in which case a routine health checkup will require these levels to be measured as well.
Why MyDiagnostics Thyrocare packages are the right option
MyDiagnostics provide comprehensive testing packages across health markers, disease factors, medical conditions, and preventative care categories. We have an extensive network of test delivery, sample collection, and lab testing ecosystem that is designed to offer highly accurate and expedited results.
For customers, there are multiple types of Thyrocare packages made available to empower them to select the one that they need. Thyrocare packages are also available for end-to-end testing, such as the Aarogyam XL test at Rs 4900 for 140 testing parameters. These packages can provide complete analysis and results for testing to ensure comprehensive coverage.
Benefits of comprehensive testing for health
There are many benefits of comprehensive testing, which is why opting for a complete test package is better than individual testing requirements. You should always review the types of tests mentioned prior to selecting the right one to maximize your testing sample output.
Identifying hidden issues
Sometimes you may be experiencing symptoms that can go undiagnosed for a long time. While you may only be focusing on vitamin testing, lipid profile or cholesterol testing, you may have missed other health markers.
Key issues, such as with minerals, toxicity, kidney performance, and hormone testing may have been left out of single parameter testing. Doctors may also not be able to capture the entire health profile of an individual if they are limited to single testing and reporting.
Comprehensive analysis
A chief benefit of opting for a testing package, such as Thyrocare, is comprehensive analysis. You can receive the benefits of complete testing accuracy and transparency, across multiple types of parameters. You can also ensure that no single health marker, such as testosterone, HDL, iron, etc., is left out of your overall health testing.
Key for health monitoring
Comprehensive testing, or testing multiple levels instead of one, is essential for overall health monitoring. It is beneficial to track multiple parameters over time to find trends and overall improvements in health markers.
Ideal for managing risk factors
If you are older, or have a genetic history of diabetes, arthritis, cancer, or other conditions, then it is best to opt for testing of multiple parameters. Comprehensive testing measures will provide the right results for multiple risk factors.
Key for weight and energy management
If you are looking for energy improvement, weight management, and strength improvement, then measuring your essential levels is key to acquiring results. You can maximize the impact of dietary changes, vitality improvement, exercise, and sleep, by ensuring that your progress is not hampered by pre-existing conditions.
How to order packages and take Thyrocare test
There are simple steps to follow when you want to order your Thyrocare Aarogyam package at home. You can also share your results via email with your doctors after you receive them. The entire process is designed to be seamless and convenient for all customers.
Select the right package
There are many options for you to choose from, as you can visit the pages of these tests can select the right one. Depending on your own requirements, and the recommendation of specialists, you can opt for the right test.
Add to cart
You can add your pin code and book test. Your test kit will be available in your profile after it has been added to the cart.
Create a profile
You can then create a profile, based on your mobile number and address, to then successfully process the request.
Payment
After you have finished your shopping experience, you can then go to payment options and select the one that applies to you.
Receiving testing kit
Your kit should arrive via delivery to your address, with all details on the sample collection mode, the prerequisites, and how to ship the sample to the lab.
Performing home collection
Blood and urine analysis may be required, which is why it is important to collect samples in a high quality manner. All instructions will be mentioned within the testing kit.
Shipping sample to centre
The sample can be shipped to the lab testing centre, where it will be processed using several technical methods. The Thyrocare lab will perform extensive testing protocols to determine the levels across multiple parameters.
Receiving results
You can receive results directly via email, for faster analysis and sharing insights with doctors. Your report will contain analysis and key areas where you need attention and treatment.
What is the cost of Thyrocare test package in India online?
The cost of Thyrocare packages in India depends on the type of test opted for, the discount period, the location, etc. These tests are available via online purchase and delivery direct to home starting from INR 1250. The price also depends on the numbers and types of tests opted for, but are fully optimized to ensure optimal benefits to customers across India.
How do I contact MyDiagnostics for my order?
You can reach out to us on WhatsApp by clicking on the chat icon below. You can also connect with us directly via phone at 080-471-66161. You can send us an email to chat with us there at contact@mydiagnostics.in. We are happy to serve our customers and answer all queries quickly.